A BOUTIQUE ART GALLERY SURROUNDED BY THE POWER OF MUSIC
---
About OUR GALLERY
Our gallery features a number of artists and rotates several times per year.
A special aspect of our gallery is the infusion of artwork from our "artists in residence," who rent wall space in our music studios to further showcase their work.
Founded by Sarah Hale Folger, our art program is an extension of her unique project, "The Art Universe." This project is intended to promote happiness, self-esteem, and creativity through innovative art lessons and workshops for the individual as well as groups of all ages and abilities.
To inquire about lessons, classes, or becoming a featured artist at the school, please contact Katherine Becrelis, owner and curator.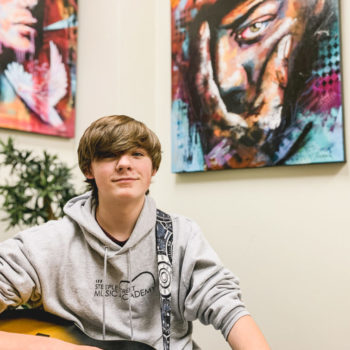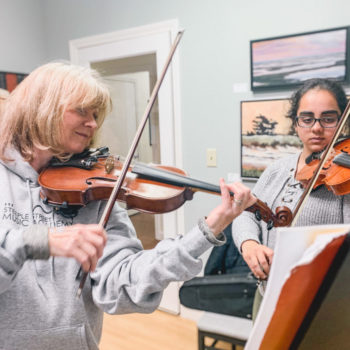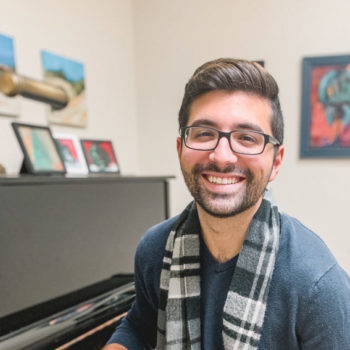 Vision
Our vision is to have a creative space for artists to share their work in an environment surrounded by the inspiring and healing qualities established by music.
Innovation
Our school not only allows for artists to feature their work in the main hallways and common spaces, but also in music studios. Additionally, resident artists have the unique opportunity to teach lessons or a class, should they choose.
Mission
Our mission is to provide a safe, supportive place for up-and-coming artists to be brave and share their artwork, where collaboration with musicians and other artists is celebrated and encouraged.
Joan Flahive
A retired high school art teacher, Joan Flahive is a transplant from Western Mass, currently living in Brewster. "The beauty of Cape Cod is what drew me to move here, and I have not been disappointed!" Joan graduated from College of the Holy Cross (BA, Visual Arts) and Our Lady of the Elms (MAT). Along the way, some of her paintings have won awards both in Western Mass and on the Cape, and her work has been juried onto national exhibitions.
Joan's subject matter includes detailed architectural close-ups and more loosely rendered Cape Cod landscapes and sunsets. She also enjoys painting birds, which are inspired by photos takes by her daughter, a devoted "birder."
"I relax in-between the technical paintings by doing the landscapes, which seem to be turning themselves into abstracts as I explore and rearrange their components. It means that I have several styles, and I think it makes my body of work more interesting."
Joan's proximity to Cape Cod Bay inspires her to use it as frequent subject matter and is often seen at Paine's Creek, photographing sunsets for use in her paintings. Joan is also a singer/musician and performs at local venues.
Below is just a sampling of some of her work featured at our school!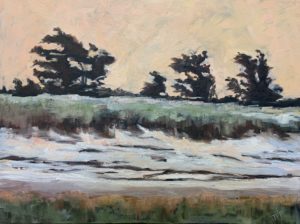 "Skeletons"
18″x24″
Oil
$450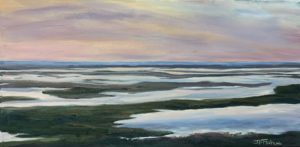 "Brewster Flats"
12″x24″
Oil
$275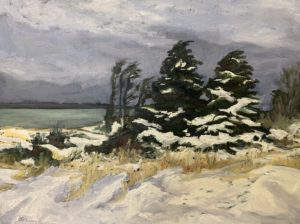 "Occasional Snowstorm"
18″x24″
Oil
$500
"Sunset, Eastham"
18″x24″
Oil
$350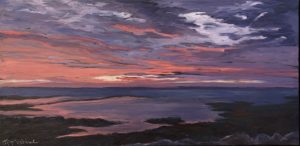 "Red Sky at Night"
12″x24″
Oil
$325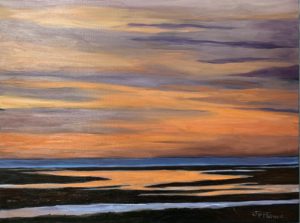 "Sunset Afterglow"
18″x24″
Oil
$350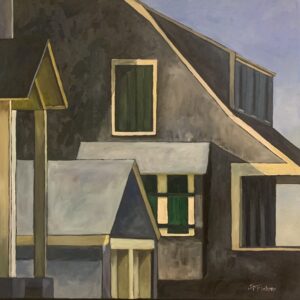 "258 Shore Road"
24″x24″
Oil
$600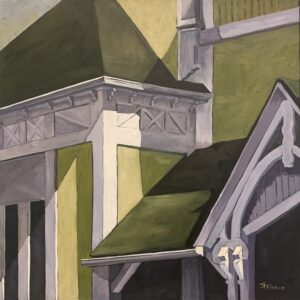 "Trinity Methodist Church"
24″x24″
Oil
$600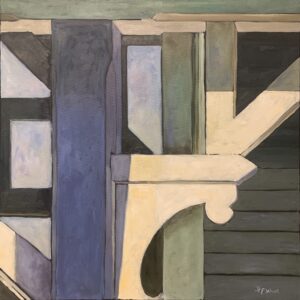 "51 Pequod Avenue"
24″x24″
Oil
$600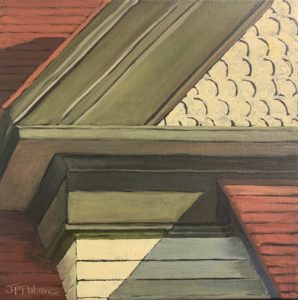 "Norton House"
12″x12″
Oil
$250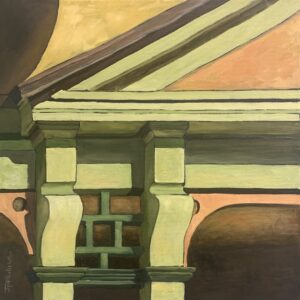 "57 Ocean Avenue"
20″x20″
Oil
$500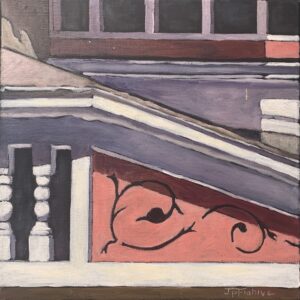 "74 Trinity Circle"
12″x12″
Oil
$250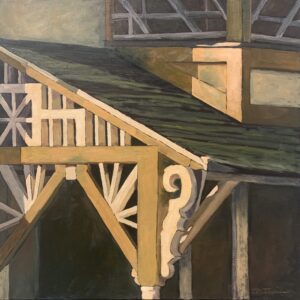 "53 Trinity Avenue"
20″x20″
Oil
$475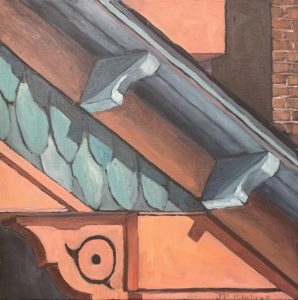 "24 Ocean Avenue"
12″x12″
Oil
$350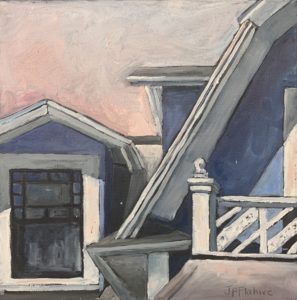 "75 Seaview Avenue"
12″x12″
Oil
$250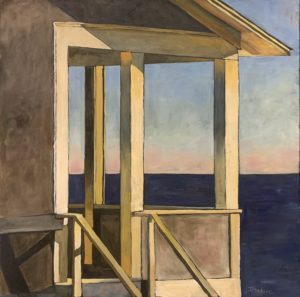 "Beach Point"
24″x24″
Oil
$600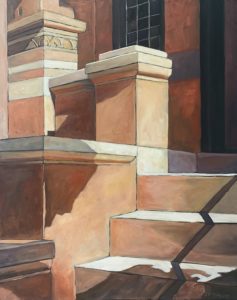 "Biddle Street, Baltimore"
Oil
$600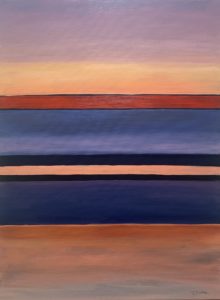 "Sunset 1"
22″x30″
Oil
$300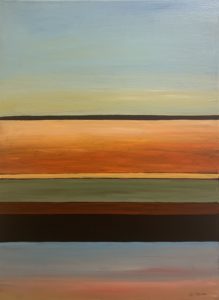 "Sunset 2"
22″x30″
Oil
$300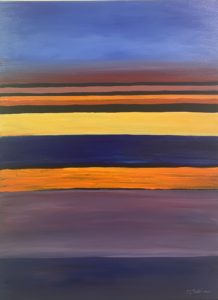 "Sunset 3"
22″x30″
Oil
$300

"Sunset, Paine's Creek"
8″x20″
Oil
$125
Lydia broderick
Lydia is a self-taught, Cape Cod-based, mixed media painter.
Born into a family of artists, Lydia was encouraged to channel her creativity through various art forms, including theater, music, and visual art. From an early age, Lydia showed an aptitude for drawing using whatever tool she could get her hands on. By her teenage years, charcoal became her tool of choice.
Her love of drawing portraits was born from a desire to capture an emotion by focusing in on the eyes; a signature trait she would later bring to the canvas. For many years, Lydia refused to paint, feeling there were too many painters in the family. Eventually, she gave in and fell in love with it. Lydia paints a mixture of portraits with some realism and abstraction, using color and texture to convey the complex emotions of the human condition. A few of her works are pictured here. Some artists who have inspired and influenced her are Salvador Dali, Thomas Hart Benton, Misti Pavlov, John and Elli Milan, and Henry Ascensio.
Below is just a sampling of some of her work featured at our school!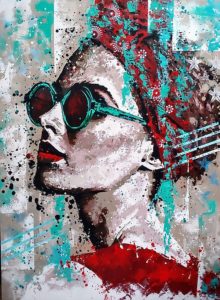 "Vintage Summer"
36″x48″
Mixed Media
$1900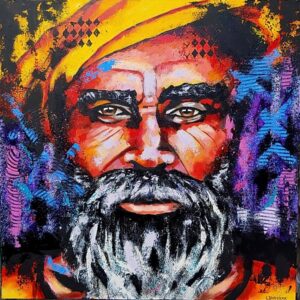 "Guru"
36″x36″
Mixed Media
$1500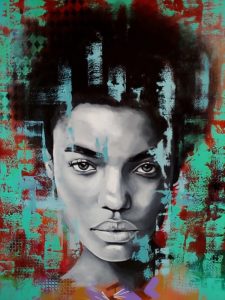 "As I Am"
30″x40″
Mixed Media
$850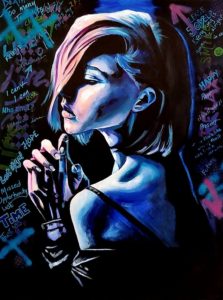 "Silent Prayer"
30″x40″
Mixed Media
$850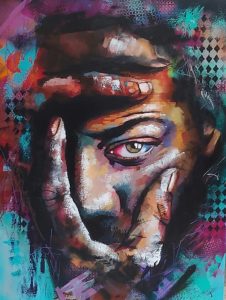 "Perspective"
30″x40″
Mixed Media
$1000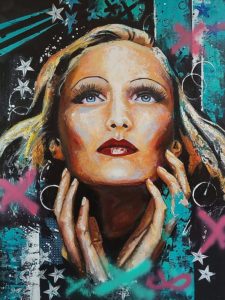 "Ms. Dietrich 2"
36″x48″
Mixed Media
$1200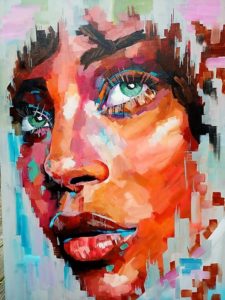 "Pixel"
30″x40″
Mixed Media
$850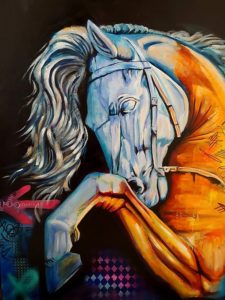 "Driven"
30″x40″
Mixed Media
$850